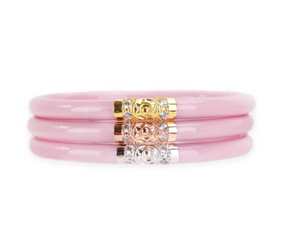 Like daughter, like mother. We know, this is backwards, but little girls did have them first. Now big girls can enjoy the beauty of our famous pink All Season Bangles. Sealed with our Three Kings bead, the set of three peony pink bangles is perfect for spring and summer and wonderful paired with gold, silver, or rose gold AWB®. 
Each set has our exclusive Lotus prayer bead in yellow gold, white gold, and rose gold…thus the name Three Kings, paying tribute to the three hues of gold. Three Kings All Weather Bangles® (AWB®) 
Mindful Glamour Ritual: Pause.  Breathe. Slip on each Three Kings All Weather Pink Bangle bracelet focusing on the abundance in your life, think of health, wisdom, and wealth. Then…Go. Be it.
Thought: Gold medals aren't really made of gold. They're made of sweat, determination, and a hard-to-find alloy called guts." Dan Gable