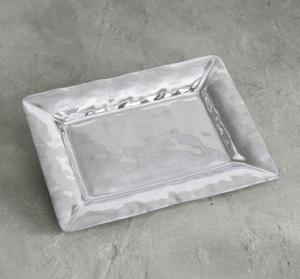 By popular demand! Beatriz Ball's bestselling SOHO Medium Rectangular Platter features serene lines, rounded edges, and exudes a zen-like sense of elegant simplicity. Now, we've introduced the gleaming SOHO Small Rectangular Platter, a slightly more compact but equally versatile companion piece. Graced with the same simple lines and form as the larger platter, you'll want them both. Add a small bowl and increase the serving possibilities. A great gift for many occassions. Beatriz Ball's intensely handmade products employ eco-friendly and sustainable materials, and are crafted by artisans who trace a heritage of metalworking for generations. An original Beatriz Ball design, sustainably handmade of a top quality, FDA safe, easy-care, oven and freezer friendly aluminum alloy.
 Size: 11.75 x 8.75 x 1
Weight: 1.25 lb
This piece is hand-wash only. Please do not put in the dishwasher.