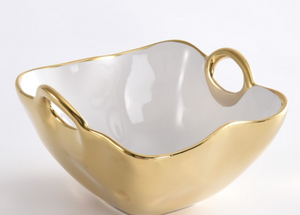 High Fired Porcelain Serverware
Gold Titanium Finished Rim
Dishwasher Safe
Stain Resistant
Food Safe
Will Not Scratch or Lose Luster
Tarnish Free
Oven Save up to 500 degrees
5x5x3"
Square Snack Bowl in Golden Handles. Handle all your snacks with style! Great for small snacks or on a buffet for condiments. Stunning white porcelain with smooth and fluent handles in gold titanium. Food safe, dishwasher safe, oven safe to 500°. Easy Care.