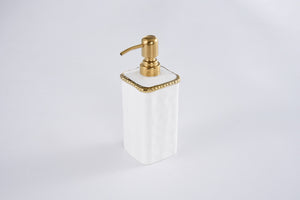 High Fired Porcelain Serverware
Gold Titanium Finished Rim
Dishwasher Safe
Stain Resistant
Will Not Scratch or Lose Luster
Tarnish Free

Soap pump in our Vanity Accessories with Gold Beads. Elevate the look of your vanity with this elegant soap dispenser. High- fired porcelain with gold titanium beading. Both practical and charming, bring the elegance of Pampa Bay into every room of your house.