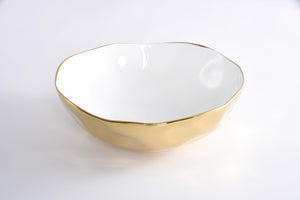 High Fired Porcelain Serverware
Gold Titanium Finished Rim
Dishwasher Safe
Stain Resistan
Will Not Scratch or Lose Luster
Food Safe
Dishwasher Safe
Oven Safe to 

500°

Tarnish Free

12 × 12 × 4.25 in

Wide Bowl in Moonlight. Perfect for your next dinner party or holiday! Roasted potatoes and veggies, spaghetti and meatballs or a simple salad served up nicely in this beautifully crafted bowl. Crafted in a stunning white high-fired porcelain with gold titanium.