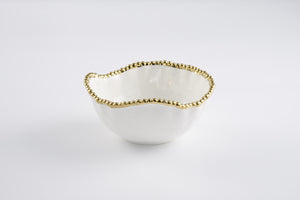 High Fired Porcelain Serverware
Gold Titanium Finished Rim
Dishwasher Safe
Stain Resistant
Food Safe
Will Not Scratch or Lose Luster
Tarnish Free
Oven Safe up to 500°

Medium salad bowl in Golden Salerno. Ideal for serving tasty side dishes like steamed vegetables, mashed potatoes, or salad. Gleaming white porcelain with lustrous gold beads in titanium.