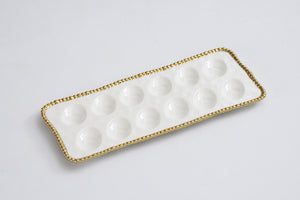 High Fired Porcelain Serverware
Gold Titanium Finished Rim
Dishwasher Safe
Stain Resistant
Food Safe
Will Not Scratch or Lose Luster
Tarnish Free
Oven Safe up to 500°  F and 260°  C

14 × 6 in

Deviled Egg Tray in Golden Salerno. The perfect accompaniment to relaxed weekend brunches, annual Easter celebrations or a fun night in, our egg tray is a great centerpiece for more than just eggs! Use to display a dozen deviled eggs at brunch or your beautifully decorated Easter eggs. This tray also makes for a great sushi display for a fun night in. Chill in the refrigerator first to keep food fresh and tasty when served. High-fired white porcelain with stunning gold beads in titanium.