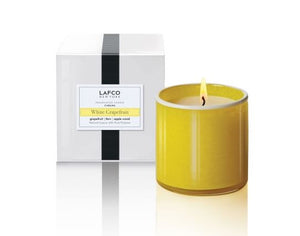 White Grapefruit
Cabana

Enter the open-air cabana to find a breakfast of fresh pineapple, orange, grapefruit and rhubarb. A single gardenia sits on top of your napkin, begging to be worn before the beach breezes whisk it away.

Zesty grapefruit leads pineapple and orange peel, after which creamy gardenia, green fern and earthy apple wood provide a sophisticated foundation.
Signature 15.5oz Candle
Hand poured in the USA with up to a 90 hour burn time and delivered in a handblown art glass vessel, our White Grapefruit candles are naturally luxurious.