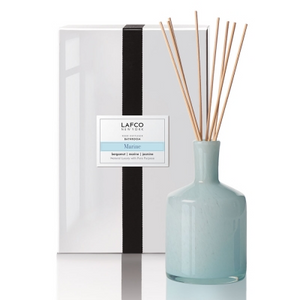 Vessel:
Our reed diffusers are crafted with premium quality fragrances and are delivered in a a beautifully designed handblown glass vessel with hand-cut reeds.
The vessel can be reused as a part of your home décor.
Key Ingredients in Formula:
Essential Oil Based Fragrances
Natural wood reeds
Free of dyes, propellants and other synthetic ingredients.

Fragrance Life:
Lasts up to 1 year
Dimensions:
4" D x 6.5" H (12" H with reeds)
Weight:
15.5 oz
Fragrance Family:
Fresh
Fragrance Notes:
TOP:
Top notes are the first impression of a fragrance.
MIDDLE:
Middle notes are the heart the of fragrance.
Marine Accord
Jasmine Water Lily
BOTTOM:
Bottom notes are the final and lasting impression.