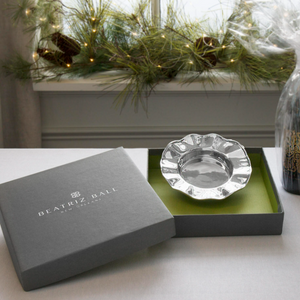 The Beatriz Ball GIFTABLES Vento silver wine coaster is a beautiful addition to any table, and makes a unique gift or graceful centerpiece.
Our Giftables Program features handmade and artfully designed Beatriz Ball items at irresistable prices; each packaged in a lovely gift box.
You'll love this handsome GIFTABLES Wine Coaster.
The ideal gift for the wine lover.
Made of an FDA safe, easy-care, oven and freezer friendly aluminum alloy.
This piece is hand-wash only. Please do not put in the dishwasher.