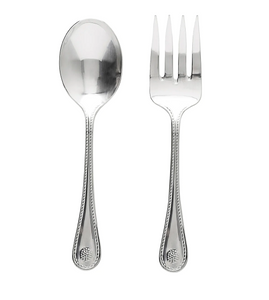 From our Berry & Thread Collection - Overscale continental sizing and front and back design details makes this 18/10 stainless steel set as unique as it is useful. Featuring our signature thread and berry motif, they pair perfectly with all of our collections, or can stand alone as a splendid hostess gift. Gift boxed.
Measurements: 1.75"W x 10.5"H x 2.5"L
Made in: China
Made of: Metal
Juliska's flatware is made of the highest quality 18/10 stainless steel. Our flatware is dishwasher safe unless otherwise noted. To care for your stainless-steel flatware, use a mild, non-abrasive cleanser that does not contain citrus, chlorine, alcohol or perfume. To keep your stainless steel looking its best, avoid prolonged contact with tea, coffee, vinegar and salt which can stain, pit and erode your silverware. When dishwashing your flatware, we recommend loading forks and spoons with their handles down, tines and bowls up. Knives should be placed in a separate basket with sharp ends down to prevent unwanted contact with other flatware. Hot air drying increases the chances of discoloration and corrosion. Dry flatware immediately after washing with a soft towel. Care— Stainless Steel & Stainless Steel with Gold Accents— Dishwasher safe. Avoid cleaners that may contain citrus. All Gold Flatware— Hand wash only. Do not use any citrus cleaners, as these are corrosive to gold. Natural Bamboo— Due to the use of natural bamboo wood, allow for variations in color, texture and size of the handles. To prolong the natural beauty of this collection, we recommend hand-washing. Enameled Stainless Steel— Hand wash only. Do not use any citrus cleaners, as these are corrosive to gold.